What?
Technical solutions exist to rationalize our energy consumption and to produce a greener energy. However, these solutions are not systematically applied. Why so? We believe that the lack of consideration of socio-cultural factors is a major cause for the continuing failure to transform our energy production and consumption on a large scale. The integration of the human factor in the energy transition is a necessary condition for its success.
The challenge thus resides in changing our relation to energy through our everyday choices and behaviors. This is where sociology meets with energy. This is also the starting point for François Glaizot et Clément Bresciani, whose ambition is to pursue the previous work of Arnaud Crétot and Robin Deloof in a trip of discovery and study around the world, starting early fall 2016.
The objective of this one-year trip is to undertake a sociological study of energy production and consumption in relation to the local context, including the geographical, social, cultural, demographic, and financial characteristics. The aim of this study is to understand individuals choices and behaviors, in the objective to feeding future debates about energy-related issues.
Where?
The need for exploring the world
Who can pretend to understand their environment, their country, their community, without knowing how it works elsewhere?
It seems obvious to us that studying something from the inside can result in a biased analysis. Researching solutions for energy-related issues, even at small scale, will benefit from a global analysis.
The itinerary is not fixed. We secured a number of places where there are energy projects we would like to study, but it is difficult to plan a lot in advance because we are mostly interested in local initiatives, for which taking contact remotely is difficult. Therefore, we will mostly rely on our communication and adaptation skills!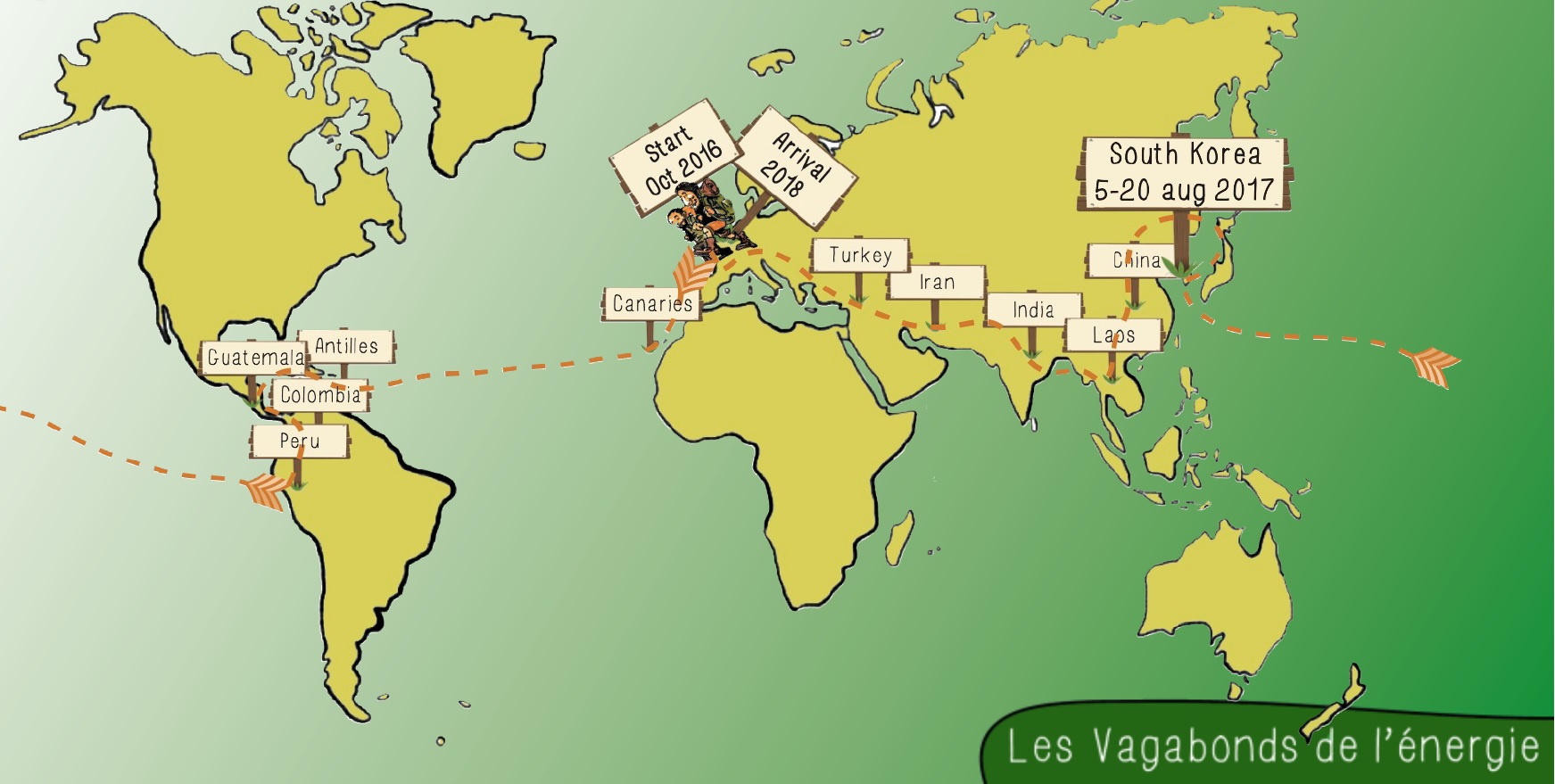 How?

Hitchhiking and carpooling
Not only these means of transportation are cheap and low in energy consumption, but also they allow for a direct interaction with local people. This will give us the opportunity to ask concrete questions and gather relevant information on energy consumption habits, therefore feeding our sociological study.
Train
The train is one of the best ways to cover large distances at a relatively low energy cost. In terms of speed, in comparison to the plane it sometimes implies a similar total journey duration due to the fact the train stations are located in city centers, shorter waiting times before boarding and generally higher frequency.
Boat and boat hitchhiking
The boat is the cheapest and least polluting mean of transportation to get across seas and oceans. Many skippers sail across the globe and look for crewmen (skilled or not) to help during boat operations.
Plane
The plane is expensive, has a very high energy cost and generates significant pollution. Therefore, this mean of transportation is not part of the Energy Backpackers choices. It is not in line with our initiative, which aims to promote a reduction of energy consumption and pollution.
Expected Outcomes
Communication is an important aspect of our project, with the objective to reach as many people as possible. A documentary film as well as online reports will be realized during and after the trip. We hope that the stories and lessons learnt from relevant projects will provide food for thoughts to the largest audience, and become a source of improvements towards a more sustainable and greener energy.
After this experience, back in France, we are planning to compare case studies found during this trip to situations found in France. Such comparisons will aim to generate new ideas for solving current issues (not only technical, but also social!) arising in local or regional energy projects.
Furthermore, as new methods of energy production are continuously being developed and tested everywhere in the world, the Energy Backpackers will be able to report on the feasibility and efficiency of such innovations. By doing such, they will be promote the development of new forms of energy production, and by consequence the creation of businesses in France to achieve it.
Beyond this, we see the Energy Backpackers association as part of a broader mission that aims to transform our energy production and consumption through the sharing of experience. This association aims to become a reference and a support to future environment Backpackers.
Budget